Liferay Netherlands User Group
Meet and engage with Liferay developers, users, and enthusiasts from The Netherlands.
Welkom bij de LNLUG #
Welkom bij de Nederlandse Liferay User Group. Op deze wikipagina publiceren wij informatie en het laatste nieuws van en voor de LNLUG. Ga naar 'Details' en schrijf je in om automatisch updates van deze pagina te ontvangen per e-mail. Heb je iets te melden en wil je zelf niet aan de wiki? Mail naar liferaynlug[at]gmail[dot]com. Volg ons ook op Twitter: @LNLUG en facebook
Aanmelden bij de LNLUG is eenvoudig: laat een berichtje achter op dit forum !
Laatste nieuws #
LNLUG Community Event 2016, Donderdag 19 Mei #
Op 19 mei 2016 vindt het 8e LNLUG (Liferay Netherlands User Group) event plaats in Amsterdam.
Dit jaar staan veel onderwerpen in de zojuist gereleasde laatste versie van Liferay DXP #
Lunch, Presentaties, Speeddating en borrel #
Naast de lunch, pauze en borrel zullen er lightning talks zijn die maximaal 15 minuten duren inclusief vragen. We hebben dit jaar 1 track, Nieuw dit jaar is het 1 op 1 ontmoeten van Liferay Professionals/Aficionados  
Het programma #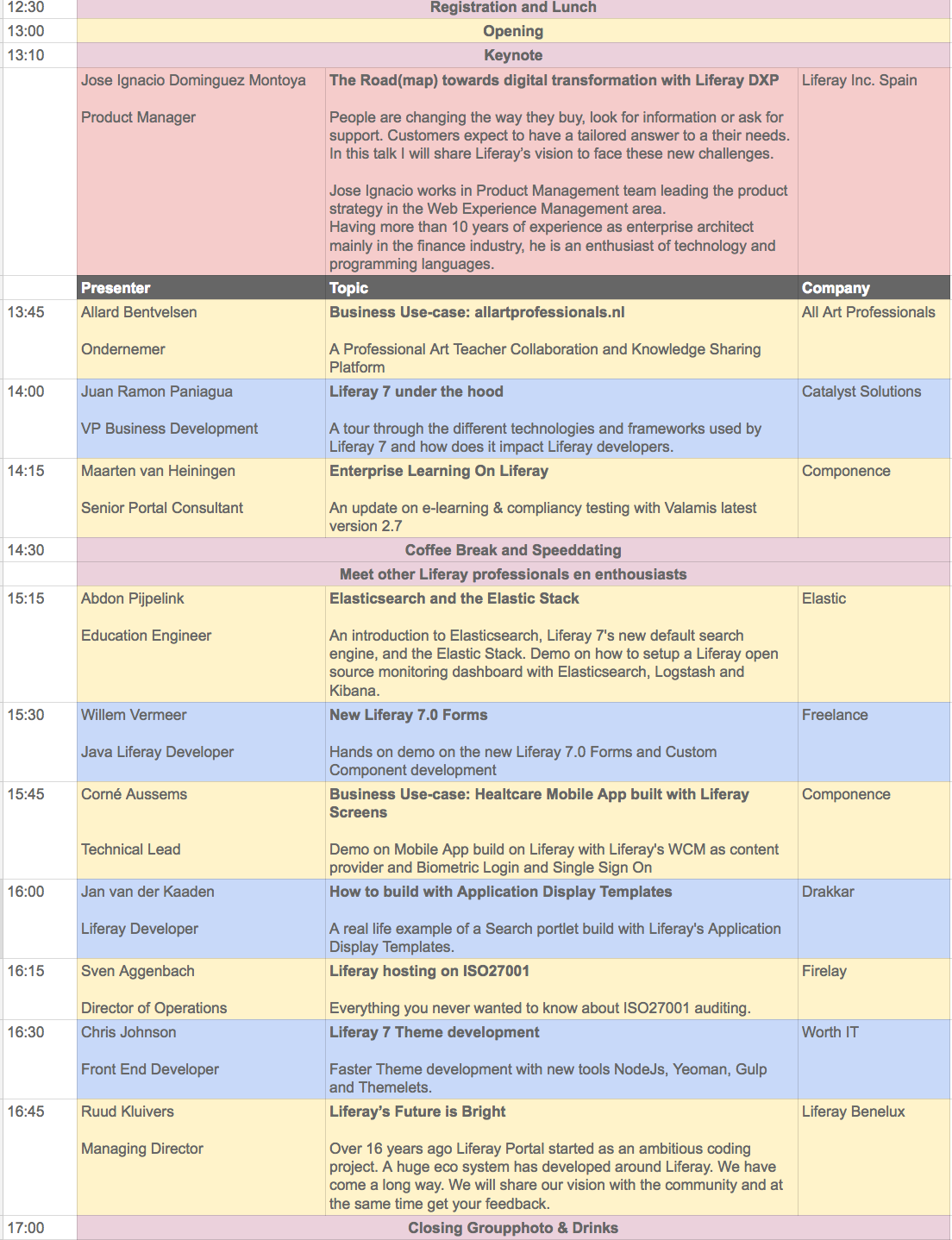 De locatie: B. in Amsterdam #
De LNLUG Sponsoren #
Het event is gratis voor deelname, dit wordt mogelijk gemaakt door de genereuse bijdrage van Nederlandse bedrijven en professionals die het LNLUG event sponsoren:
Projecten & initiatieven #
De LNLUG is altijd geïnteresseerd in nieuwe ideeën en initiatieven. Meld je plannen hier of aan liferaynlug[at]gmail[dot]com.
Vertaling van Liferay #
7.0 in Liferay Support #
Een ieder is van harte welkom om suggesties ter verbetering van de Nederlandse vertaling te delen via translate.liferay.com/pootle. Zie hier een handleiding.
Discussies over de vertaling voeren we hier.
Liferay marketing #
Op welke events en met welke middelen kunnen wij de naamsbekendheid van Liferay verder vergroten in Nederland? Je kunt je suggesties kwijt op onze Marketing Wiki.
Waar wordt Liferay in 2015 gepromoot? #
Heb je een tip geef hem dan door!
Nederlandse Showcase #
Op de Showcase Wiki verzamelen wij spraakmakende voorbeelden van Nederlandse implementaties. Beschrijf een project conform de richtlijnen en zet het in de schijnwerpers!
Shared/sponsored development #
Aan welke specifiek Nederlandse plug-ins er behoefte en kunnen we die gezamenlijk ontwikkelen? Deel je suggesties op onze Wiki
Nederlandse User Group Events #
De belangrijkste bestaansreden van de LNLUG is het User Group Event. We hebben al vijf succesvolle bijeenkomsten achter de rug ( lees meer hierover ).
子ページ